Traveling for Cheap- The Skymiles Edition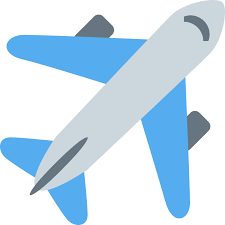 Ah, summer. What a beautiful time of year! The season of nice weather and traveling. I personally love to travel and would like to do it 4x a year. But there's always something holding me back: money. BUT I've found ways to travel for cheap. Yup, that's right, you can still see the places of your dreams and do it for a fair price.
Now, I'm no expert world traveler, but I've used some travel hacks to get me to places like Hawaii and California for FREE. I did this by getting a Gold Delta SkyMiles Card. This card was great for me but do your research and make sure to select the right card for you. This rewards credit card has helped me see places I've craved.
Before I jump into how a credit card with rewards helped me pay for my vacations, I just want to say that credit cards aren't for everyone. If you struggle to pay off your credit card in FULL, and on TIME each month when your bill comes due, I wouldn't recommend getting one. But if you are someone who is able to pay off your credit card bill on time, then this will be a fun tip for you.
Back in May 2018 my coworker encouraged me to open up a SkyMiles card so I could fly to my dream destination-Hawaii. And truthfully, I was skeptical about the idea of opening up a credit card that promoted a free flight deal. It just sounded too good to be true. But I went for it. During this time, Delta was having a promotion where "if you spent $3,000 within the first 3 months a cardholder could earn up to 50,000 SkyMiles points" plus another 5,000 bonus points for every friend referred. At the moment, flights to Hawaii were 60,000 points. So I did the math and figured out that I could get that trip for free.
How did I do it? Well spending $3,000 was easy. (Go figure, spending is easier than saving) but I did it the 'smart' way. I spent $3,000 on my husbands summer tuition rather than just spending money on stuff we don't need. It may sound crazy to put tuition on a credit card, but I was able to pay it right off the following closing date because he got financial aid and scholarships to cover his tuition. So technically it's $3,000 that I didn't spend and it gave me 50,000 free points.
Now, you may be wondering "what about the other 10,000 points you needed to get the total 60,000 points for Hawaii?" Don't worry, I was able to refer my husband who later got the card near the end of summer, as well as my coworker who got the card. So I automatically got those 10,000 points for doing nothing. And that's how I got my free Hawaii tickets. My husband got his Gold Delta SkyMiles Card in August 2018 and paid his tuition for fall semester on that card as well and got the 50,000 Skymiles points. We did the same trick of putting tuition on the card, but getting paid back for it through scholarships and grants.
I'm not saying to put everything on your credit card, especially tuition, but this is something that happens when you plan ahead of time. I was able to calculate how much tuition would cost and how much money he got from grants and scholarships. So really tuition was free, and so were the flights.
So what's the catch? The $95 annual fee is one of them, but also after getting your bonus and promo points, every $1 spent = 1 point. Most Skymile points for a free flight are around 15,000+ points. In this case, you wouldn't want to spend $15,000 just for a free flight right? In my mind after earning the 50,000 points and booking your ticket, you're pretty much done using that card and may want to cancel because 1 point per $1 is not as good as some other rewards cards. Keep in mind you would only want to cancel this card if you have other cards open or you may see a drop in your credit score.
In conclusion, the Delta Skymiles Card has helped my husband and I get a free trip to Hawaii and California. If you can grasp onto the credit card game and do it in a smart way, then using this travel hack to see the world isn't such a bad thing. Use at your own caution and read the fine print carefully. Make an appointment to speak to a counselor if you want help navigating the credit card travel game and improving your credit. Happy travels!

Click Here to see the Best Travel Credit Cards of June 2019