About the Financial Wellness Center
The Financial Wellness Center provides a competent and confidential atmosphere where students and post docs can have access to accredited counseling services, quality financial education and appropriate tools to achieve lifelong successful financial outcomes.
As of June 8th, 2023 we are a certified Green Office supporting the efforts of the University of Utah in collaboration with the Office of Sustainability!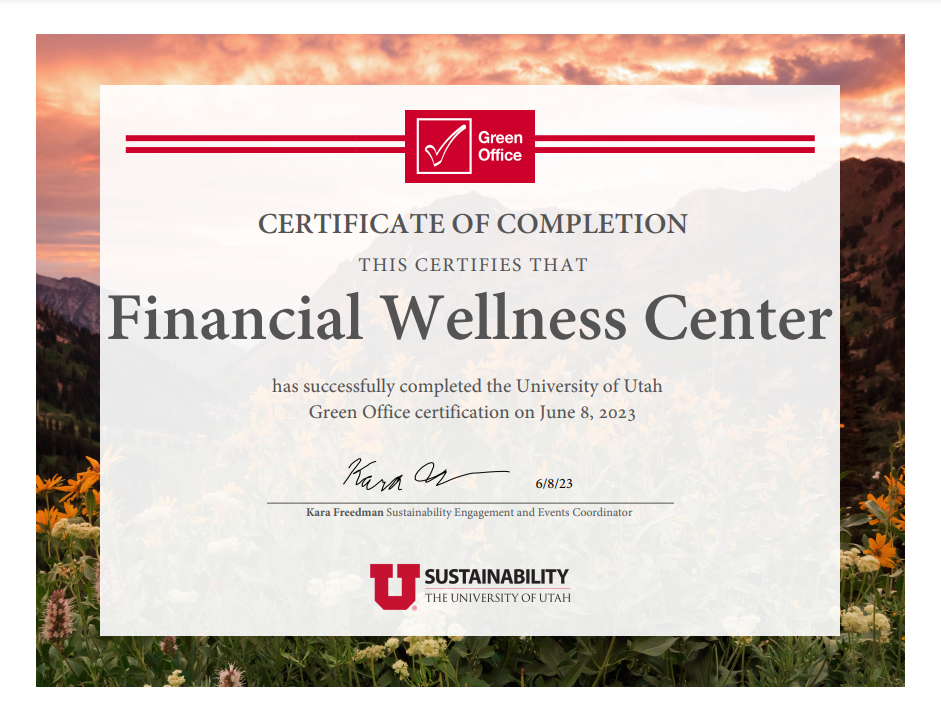 ---
Full Time Staff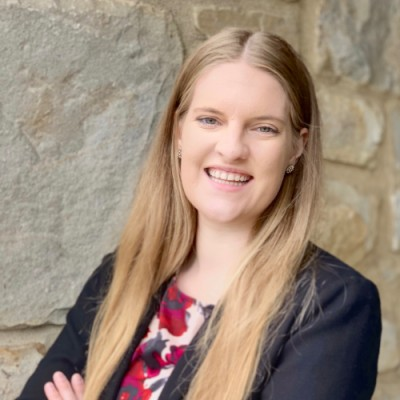 Gabrielle McAllaster, PhD
(she, her, hers)
Director
I hail from my hometown, the beautiful city of Denver, Colorado, and I recently completed my Ph.D. in Education with a specialization in higher education at Rowan University. As a scholar-practitioner, my dedication to social justice informs everything I do, and I am excited to bring a wealth of current and critical perspectives to the realm of financial literacy, education, and wellness. I strongly hold the belief that financial well-being is a fundamental component of overall well-being. As such, it is my commitment to support each of our students on their unique financial journeys, helping them navigate the path to financial wellness.


Beth Hunsaker, MS AFC
(she, her, hers)
Assistant Director
Teaching people about financial wellness through small and consistent habits has been one of Beth's goals since she began teaching personal finance in 2005 for the department of Family and Consumer Studies at the University of Utah after earning her graduate degree from the U. Beth has earned her AFC (accredited financial counseling) and has presented on the topics of financial wellness at state and national conferences.
Beth views financial wellnes as just part of the equation when it comes to overall wellness and believes that all areas of the person are important to consider when making financial decisions.
Beth loves being a mom to three amazing future Utes and one spoiled dog, Jimmy. She loves to read, garden and watch cheesy zombie movies.
---
Staff
Jade Ramirez
(she, her, hers)
Peer Mentor Intern
Jade is an undergraduate student double majoring in Economics and Linguistics with an emphasis in Computational Linguistics. She enjoys learning about economic models and language learning models in her respective majors and tries to complement them with her programming skills. Outside of school, Jade likes playing video games, reading, and traveling. She says her best purchase of the summer was her Nintendo switch.
She got into personal finance through her parents who she watched navigate their own finances through the help of self-help books, and in her own transition to adulthood she continues to educate herself on the topic. After volunteering to prepare taxes for lower income communities Jade realized the power of financial education, and guiding others to the resources available to them. She sees financial wellness as a skill people develop and refine, and also believes it's important to examine finances in the context of a person's values and community.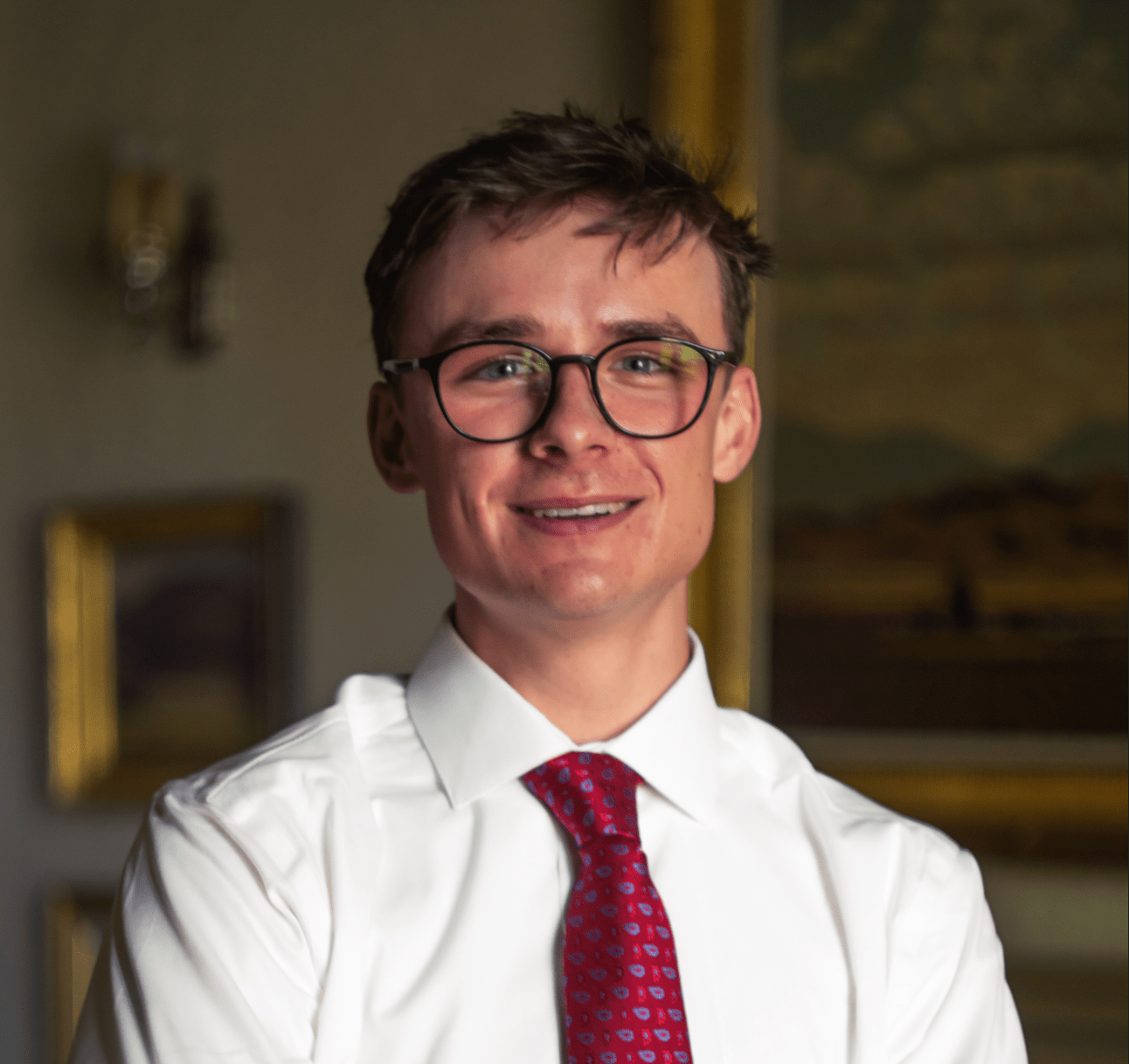 Alex Lewis
(he, him, his)
Peer Mentor Intern
Alex Lewis is a third-year student at the University of Utah, where he is pursuing a double major in finance and financial planning and counseling. Originating from Ogden, Utah, Alex holds a deep appreciation for outdoor activities, with a special interest in mountain biking and camping. In his free time, he enjoys playing instruments, learning spanish, gardening, and growing houseplants.
Alex is preparing to become a Certified Financial Planner. He is involved in the Financial Planning student club and the Financial Planning Association. For Alex, learning how to manage money is more than a skill – it's a source of satisfaction and fulfillment. He is genuinely excited about helping fellow students on their journey of financial empowerment.

Elsa Osborne
(she, her, hers)
Peer Mentor Intern
Hi! I'm Elsa, I use she/her pronouns, and I'm a student studying Health, Society, and Policy with a minor in Sociology and I am a member of AFCPE and obtaining my financial counseling accreditation. In my me-time, I enjoy practicing yoga at The Front Climbing Gym, doing group fitness classes, journaling, and spending time with my cat! While at the Financial Wellness Center, I offer a holistic approach to dealing with finances, I always say "It's like therapy, but for money!" We are all complex individuals, and all aspects of our lives cross over into financial wellness. With my time here, I hope to gain skills that will help me grow my financial knowledge and personal money management skills. I am currently taking appointments, so come see me!

Carson Totty
(he, him, his)
Peer Mentor
Carson Totty is an undergraduate at the U pursuing a major in Family, Community & Human Development with an emphasis in Financial Planning, and a minor in Business. He is from Laguna Hills, California and likes to spend his free time cooking and golfing. He is an IRS certified tax preparer that is looking forward to helping the community with their taxes. Carson is excited to help students with any finance and tax questions they have!

Mohmmad Baqar Al-Saedy
(he, him, his)
Peer Mentor Intern
Meet Mohmmad, a second-year student at the University of Utah, studying Health, Society, and Policy. Mohmmad is on the pre-pharmacy track and proud to be a first-generation Iraqi American. As a peer mentor at the Financial Wellness Center, Mohmmad offers valuable guidance and a unique perspective. During his free time, Mohmmad enjoys traveling, spending quality time with friends, and indulging in educational documentaries to satisfy his thirst for knowledge. Mohmmad takes a holistic approach to financial wellness, recognizing its interconnectedness with various aspects of life. He is eager to enhance his financial knowledge and support others on their financial journeys. Feel free to visit Mohmmad in the office and benefit from his expertise!
---
Find Us
Address:
Financial Wellness Center
A. Ray Olpin University Union, RM 317
200 S Central Campus Drive
Salt Lake City, UT 84112
Phone:
(801) 585-7379
Email:
financialwellness@sa.utah.edu