Healthy & Budget-Friendly Meals for Students
Being a college student is hard. You have to balance school work, your job, friends, family, and sleep. That makes it hard to also find food that's healthy and cheap. Doing so can be a huge chore. Especially when you need something quick because of your busy schedule. Here is a list of cheap and healthy foods you can grab on the go!

1. Plain Greek yogurt. Top it off with fruit to make it a parfait.
2. Edamame. A great on the go snack that's low in calories.
3. Almond butter. It contains healthier fats than peanut butter and has Vitamin E, iron and calcium!
4. Cottage Cheese. A great snack and tons of protein for athletes.
5. Brown rice & quinoa pasta. A perfect side dish for your dinner.
6. Hummus. It's packed with protein and can be used with crackers, carrots, celery and more!
7. Steamed lentils. It's great for boosting your immune system and used as a side
8. Dried roasted almonds. They contain healthy fats and a great snack to keep you feeling full
9. Hormel Natural Choice Deli Turkey. Deli meat has a negative connotation of containing too many preservatives, sugar, and sodium. Grab yourself Hormel Natural Choice for ⅓ of the sodium seen in other deli meat and use it for your next lettuce wrap
10. Multigrain Tortilla Chips. These chips are covered in flax seeds, sesame, sunflower seeds, and added nutrients.
11. Frozen Fruit. Fresh fruit can be expensive, but if you want to get your nutrients in you can grab a bag of frozen fruit and make a smoothie out of it.

Being healthy doesn't have to be hard. You just have to be creative about what you're going to eat. The key is to plan out your meals and snacks. By planning out what you're going to eat you are less likely going to spend money when feeling hungry and eat unhealthy foods.
If you're not much of a planner, figure out what foods you can find on campus for free. It's very common to find events and workshops on campus where lunch is provided. Look around campus and you may stumble on free food which will keep more money in your wallet. Check out our workshop on Tuesday, October 16th to learn about scholarships and for free lunch.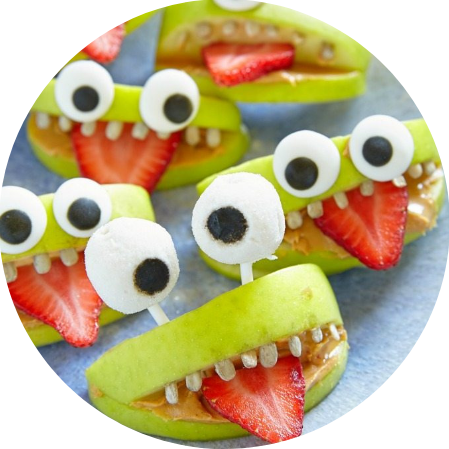 Check out this cheap healthy recipe for your Halloween Party

Monster Apples
Ingredients
• 2 green apples each quartered
• almond butter or hazelnut butter
• 32 sunflower seeds
• 2-3 strawberries sliced
• 1-2 googly eyes per apple bite for the larger eye use a marshmallow

Instructions
1. First, cut the middle out of each quarter of the apple in order to create a mouth. Don't worry about it being perfect, as you are filling this gap with almond butter anyway so if you cut too deep, you can always cover it up and you won't even be able to notice.
2. Coat the inside of the gap where you just cut with a filling of almond or hazelnut butter.
3. Place sunflower seeds on the top of where the "mouth" is to resemble the teeth.
4. Place 1 sliced strawberry inside the mouth to resemble the tongue.
5. "Glue" each eye above the mouth, using a dab of almond butter to make it stick in place.
6. Serve your monsters and enjoy!
Recipe from parentingchaos.com.