Meal Prepping 101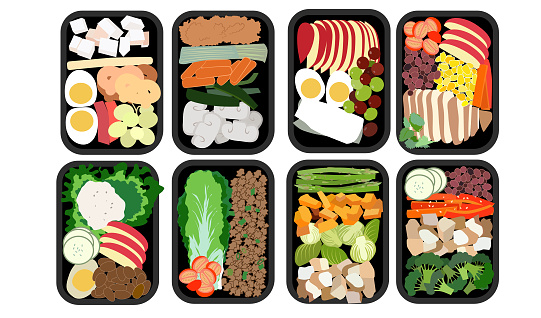 I had a fantastic opportunity yesterday to speak at the University of Utah in collaboration with the Financial Wellness Center. The U invited me to come on campus and talk to a group of 100 students and teach them how to meal prep and meal plan. I taught all about how to meal prep, gave my top meal planning tips, and shared three easy recipes and a grocery shopping list that cost me under $50 for 8 meals and snacks!
Teaching at the U was a full-circle moment because I started my blog my freshman year. I do remember living in a tiny dorm room with five roommates, without a meal plan card, and being starving all the time. I would get home from a long day of classes to an empty fridge and a pantry with only top ramen and a cup o noodles.
I've always loved to cook, but without a plan each week on what to grocery shop for and what meals I wanted to make, I found myself too tired at the end of the day to make a proper meal.
It was then that I figured out that I needed a plan each week. I needed to go to the grocery store with a shopping list and recipes in mind. As I navigated feeding myself each week, I began posting all my recipes and ideas on Instagram, and my page began to grow. I noticed a trend that many college students were struggling with the same thing I was.
I built a blog and a brand based on the principals that dinner doesn't have to be complicated. Life is better when it tastes better, and my goal has always been to inspire others to cook more meals at home.
I taught myself a meal prepping method that worked for me! And yesterday, I got to share it with a group of students at the University of Utah six years later.
Here are the three recipes I shared at the event yesterday. These three recipes make a great complete meal plan for the week because the salad can be for lunch, the burrito bowls can be for dinner, and the protein bites make for a healthy and nutritious snack!

I've also included a grocery shopping list below that you can screenshot or print off and use for later!
Instant Pot Chicken Burrito Bowls
Recipe Link: https://alexdaynes.com/ instant-pot-chicken-burrito- bowls/

*this recipe is written as an Instant Pot recipe, but it can also make it on the stovetop. Follow the instructions as written in a large pot on the stove, but rather than locking the lid and pressurizing this recipe, you will place a lid on the pot and turn the heat down to a medium-low. Allow it to cook undisturbed for 15-20 minutes until the rice is fluffy and cooked through. Enjoy!
Protein Bites
Recipe Link: https://alexdaynes.com/ protein-balls/
Never Soggy Salad
2 16 ounce cans of chickpeas

1 cup grape tomatoes

¼ cup diced red onion

1 diced green onion

½ cup fresh parsley

1 bell pepper

1 English cucumber

2-3 fresh mint leaves

Fresh lemon juice

Olive oil or your favorite Italian Dressing
*optional: feta cheese

Preparation
Rinse and drain chickpeas and set in a large bowl.

Dice up the red onion, green onion, parsley, bell pepper, cucumber, and mint. Add to the bowl with the grape tomatoes.

Drizzle with lemon juice and olive oil or dressing.

Store in the fridge for up to one week.
Meal Prepping Tips
1. Consult Your Calendar!
Check your calendar or planner if you keep one! Look at what days are going to be busy and what days you may have extra time on your hands. Plan for your week and how many "on the go" meals you really need to plan for! I enjoy cooking, so I don't eat prepared food every day. Also, I like to schedule a Prep Day, where I spend a couple of hours cooking!
2. Bulk Prep Protein!
I always have protein cooked and ready to go in my kitchen. I typically do a bulk batch of protein for me to store in my fridge and have on hand when I need it! It makes throwing dinner together so much faster when your meat is already done! I often make my easy shredded chicken, BBQ pork, or have cooked ground turkey ready to go to turn into buddha bowls, tacos, salads, or sandwiches.
3. Get Good Containers!
For meal prepping, you are often putting your foods into plastic or paper containers. I have found that I am very picky when it comes to what containers I use. They need to be dishwasher safe, conveniently sized, and portable! There are hundreds of options on the market out there so find what works for you! I love mason jars, Pyrex bowls, and small plastic cups for sauces.
4. Prepping doesn't mean a Finished Product!
People think meal prepping means that you have all your meals completely cooked and finished and ready to be reheated to eat! Prepping can mean dicing all your, carrots, cucumbers, or other items for easy use! It can also mean placing all your smoothie ingredients in a bag in the freezer for an easy grab & blend option. Any extra prep you do counts as meal prepping! It's all about simplifying your week.
5. Meal Prep Doesn't Have to be Boring!
Just because you are meal prepping doesn't mean you have to eat chicken, rice, and broccoli on a daily basis. You can meal prep all sorts of recipes! When you make dinner, double it and portion the extras out to save for later! Don't want to eat the same thing every day? Freeze the extras in your containers for another week! Don't get sucked into boring, bland meal prep bowls. Have fun with it!
For more recipes, visit Alex's website here.