Money-Saving Grocery Shopping Tips
The first time I went grocery shopping by myself my first year of college, I felt overwhelmed. I come from a family of six which meant that the only experience I had with grocery shopping was helping my mom shop for six people. I had no idea how to shop just for myself. After trial and error, I have created a system for myself that allows me to stick to my budget and stay healthy at the same time.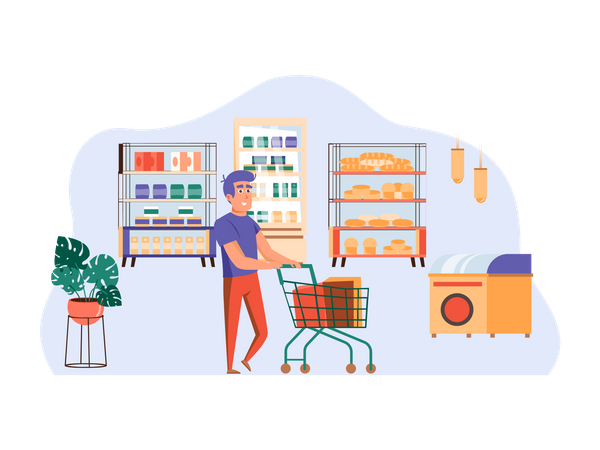 Grocery shopping in college doesn't have to be scary. Here are a few tips on how to do grocery shopping right to save money:
Before You Grocery Shop
1. Make a list of what you eat
Making a list of what you eat is important to figure out what you would like to have on hand. What are some staples in your household? That way you know exactly what you need to buy. For example, I used to eat cereal when I lived with my parents, but realized I prefer oatmeal for breakfast. So in college, I started out buying cereal like my parents did, but realized I didn't really eat it.
2. Figure out how much time you have to prepare meals
As a college student, you will be busy with classwork, extracurricular activities, and might even be working part-time or full-time. While keeping your schedule in mind, figure out how much time you have to prepare meals or how much time you are willing to spend meal prepping. That will help you decide what meals you should make.
3. Plan your meals
Look up recipes with ingredients you like and try to make recipes that use some of the same ingredients. Figure out how many portions the recipe yields and plan your week accordingly. I'm not the best when it comes to leftovers, but I've realized that if I make food that I really like, I can deal with leftovers. make sure that once you come up with a meal plan, you stick to it once you get to the grocery store. Sometimes it might seem easier to just buy pre-made food because you don't have to cook , but those meals can end up being more expensive.
4. Decide on a budget
How much money are you going to spend or how much money will you set aside each month for grocery shopping? I've found that I spend an average of $60-$80 on groceries depending on whether I buy protein such as chicken, beef, or shrimp. I try to go grocery shopping every two weeks, but it changes depending on my schedule. Don't panic too much if you go over your budget the first few times; it's all about finding how much you spend on average and then trying to stick to that.
5. Look for deals and coupons
Find the grocery stores that work best for you. Depending on the store, you might be able to download their app and access their sales and deals section. I always get the grocery papers in the mail for the grocery stores near me and try to base my meals around items/produce that might be on sale.
6. Check your refrigerator and pantry
Every time I go grocery shopping, I look at my list and then make sure to look in my refrigerator and pantry to see If I have any of them on hand. If I don't, I keep them on the list and if I have them, I cross them off.
During Grocery Shopping
7. Eat before you shop
You really do spend more money at the grocery store if your tummy is rumbling and you will end up forgetting to buy items you need because you're in a hurry to go eat. I have done this. Don't be like me.
8. Buy frozen vegetables
Frozen vegetables are just as tasty as fresh vegetables and are always nice to have on hand for recipes. I buy half of my vegetables fresh (e.g. tomatoes, lettuce, peppers, arugula, limes) and the other half frozen (e.g. spinach, broccoli, corn, sweet potato) to make sure that I have time to use my fresh vegetables first.
9. Buy what's in season
Buying produce in season helps your budget. Trust me. When you buy in season, produce seems to be cheaper. You can also plan your recipes according to what's in season. I do this and it helps me to change up my meals so I don't eat the same thing all year-round.
10. Buy generic store brand items
Generic store brands are priced lower than brand items. Yes, don't get me wrong. It's nice to splurge on some things here and there, but I've found that when it comes to basic grocery items, generic store brands are just fine.
11. Get the basic essentials
This tip is especially important the first time you go grocery shopping. Make sure that you buy basic pantry staples the first time you shop. If you know you want to cook and bake some in college, you'll need those items. Get some flour, sugar, baking soda, cocoa, and spices you use often (If you haven't used spices before, Italian seasoning, garlic, and taco seasoning are good places start). This will be more expensive than your average grocery shop, but you won't need to replace these items often.
12. Limit your shopping trips
Grocery shopping can be overwhelming especially as a college student, but it doesn't have to be. As I've gotten more comfortable, I've enjoyed cooking and trying new recipes. Learning how to grocery shop has been a process, but it has also been fun. Hopefully these tips will help you in your journey to adulthood!
About the Blog
The Financial Wellness Center's discussion channel for insightful chat about our events, news, and activities.